E-waste is a growing problem with sustainable experts constantly seeking new and innovative ways of recycling, reusing, and protecting the environment from e-waste. But it's not just sustainability experts and our team at Computer Aid International who concern themselves with e-waste.
It seems that artists too are becoming increasingly motivated by what it means to reduce e-waste and transform unwanted devices and technology equipment into something a little different.
Here are 8 ways that e-waste has been used for art in recent years: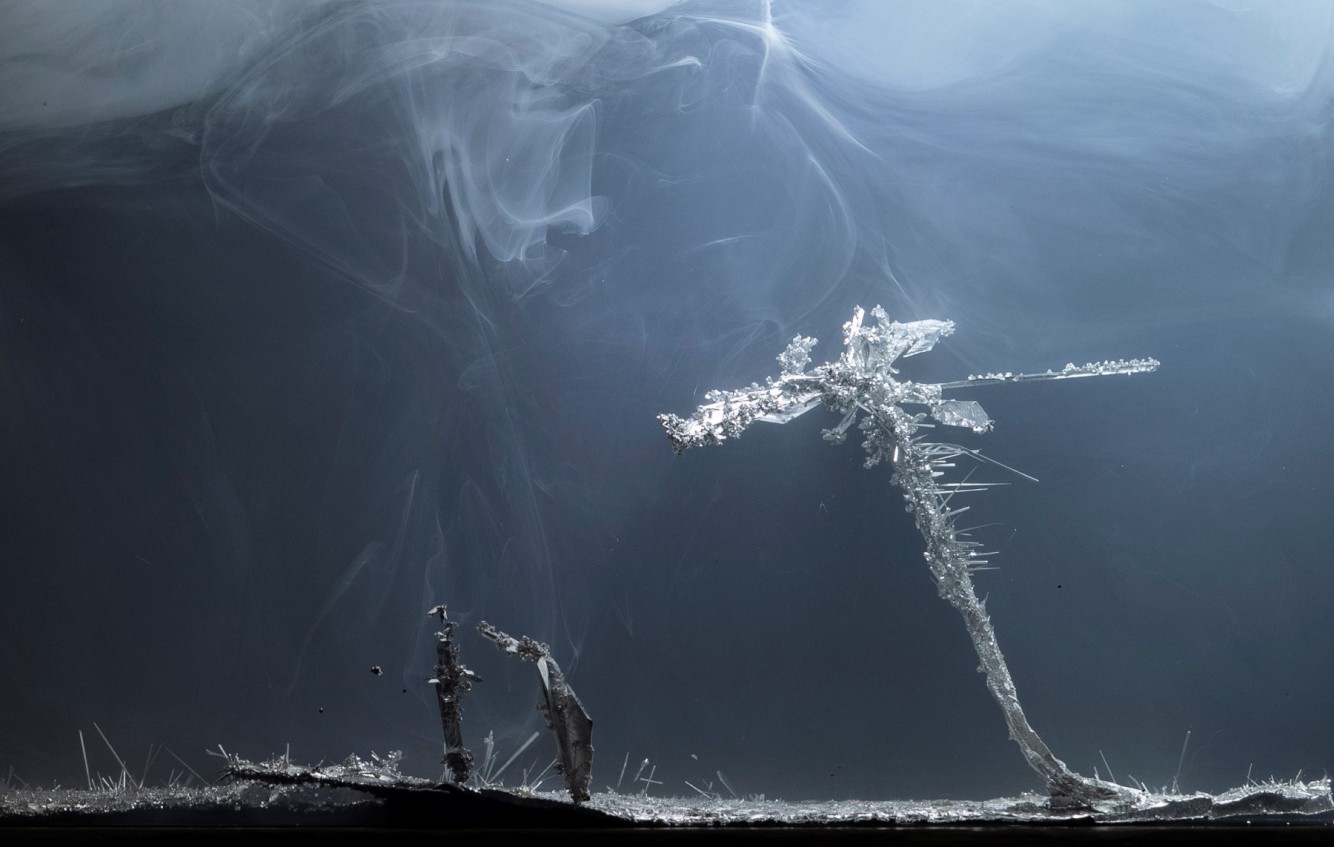 Permutations, by Hicham Berrada
Embodying the idea of toxic e-waste as being otherworldly, Berrada's creation 'Permutations' is built from the idea that we view our wasteful attitude to technology and devices through thick glass – literally separating ourselves from the issue.
By positioning structures created from the dissolution of exotic metals and electronic waste, inside aquarium-like tanks, the artist here confronts us with the reality of such toxic waste while epitomising the human idea that such issues are happening somewhere else – to someone else, behind a glass screen.
Berrada himself refers to the structures as "strange landscapes", referring not only to the physical appearance but to the way that these structures become part and parcel of a landscape and life that we are building for ourselves. A reality check in the form of art, it is pieces like these which should encourage corporate organisations to partner with Computer Aid and minimise their contribution to this landscape of the future.
Vishwanath's contribution to the world of art
Vishwanath Davangere Mallabadi, based in Bagalore in India, is one example of a visionary whose physical works are having a huge impact in the world of e-waste and the way we view those devices and items that we believe to be rubbish. By transforming such waste into something beautiful, Vishwanath's vision is very much focussed on changing people's minds and attitudes to what they otherwise consider as waste – creating full sculptures from discarded computer parts, keyboards, mobiles phones, and more.
Fusing together colour with recognisable creatures in an attempt to transform unwanted devices into something that anyone can enjoy the artist's aim is to unite creativity with technology and art with recycling.
"Let the world see and enjoy. Art should be enjoyable to the common man, and as a designer art should be accessible to the common man too."
N+ew Seats
Proof that e-waste art doesn't have to be something decorative with no added function, the N+ew Seats created and designed by artist Rodrigo Alonso are designed to be used as seats in and around the home – embodying the idea that e-waste can be recycled into a highly functional accessory for everyday life even after being discarded.
Creating his seats from unwanted and used keyboards, CDs, and cables as well as mobile phones and other devices, these furnishings are both artistic and an excellent example of upcycling at its finest – demonstrating just one way that donating your unwanted devices and electronic accessories can breathe new life into them and save the environment.
Mobile Phone "Tower of Babel"
​​On March 30, 2019, in a shopping centre in Beijing, artist Shen Bolun unveiled his art installation entitled 'Tongtian' as part of a Greenpeace campaign to raise awareness about e-waste.
The sculpture is made of discarded mobile phones and shaped like a cell tower. The phones have been rigged to a metal frame and synchronised so their screens flash in various colours, making an eye-catching statement.
"The inspiration of my tower comes from the Tower of Babel in the Bible," artist Shen Bolun told AFP, referring to the origin story explaining why people speak different languages.
You can see a video of the installation here: https://www.dailymotion.com/8525b729-9c4b-4101-ae9e-d6d4a0005d66
Turning Ghana's Toxic Waste into a thing of beauty
In the large waste dump Agbogbloshie in Ghana's capital, Accra, Joseph Awuah-Darko hopes to inspire people into re-thinking the way they view and perceive waste.
"I don't really think the future of Agbogbloshie is that it should be confined to a waste-dump. I think that it would be transformative. It will become a hub for design thinking, and innovative ways, working hand in hand with the whole populace there to kind of create value added mechanisms and value added products from the waste."
In January this year, he co-founded the non-profit Agbogblo.Shine Initiative; an innovative organisation which encourages workers at the dump to turn waste into high-end furniture. Not only does this breathe new life into e-waste but it also promotes a change in attitude across both workers and consumers.
"It's true that Agbogbloshie is a result of negative externalities from dumping by more developed European countries, but I saw, or I chose to see the opportunity within the mess. I chose to see the opportunity to create and turn what has been called a dump into an opportunity."
Awuah-Darko's first completed piece of work is a grandfather clock, made from a galvanized car axle, aluminium and part of a discarded wall clock. Two hotels in Accra are in a bidding war, each hoping to win ownership of the clock.
You can see a video of his work here: https://twitter.com/i/status/956353446692581377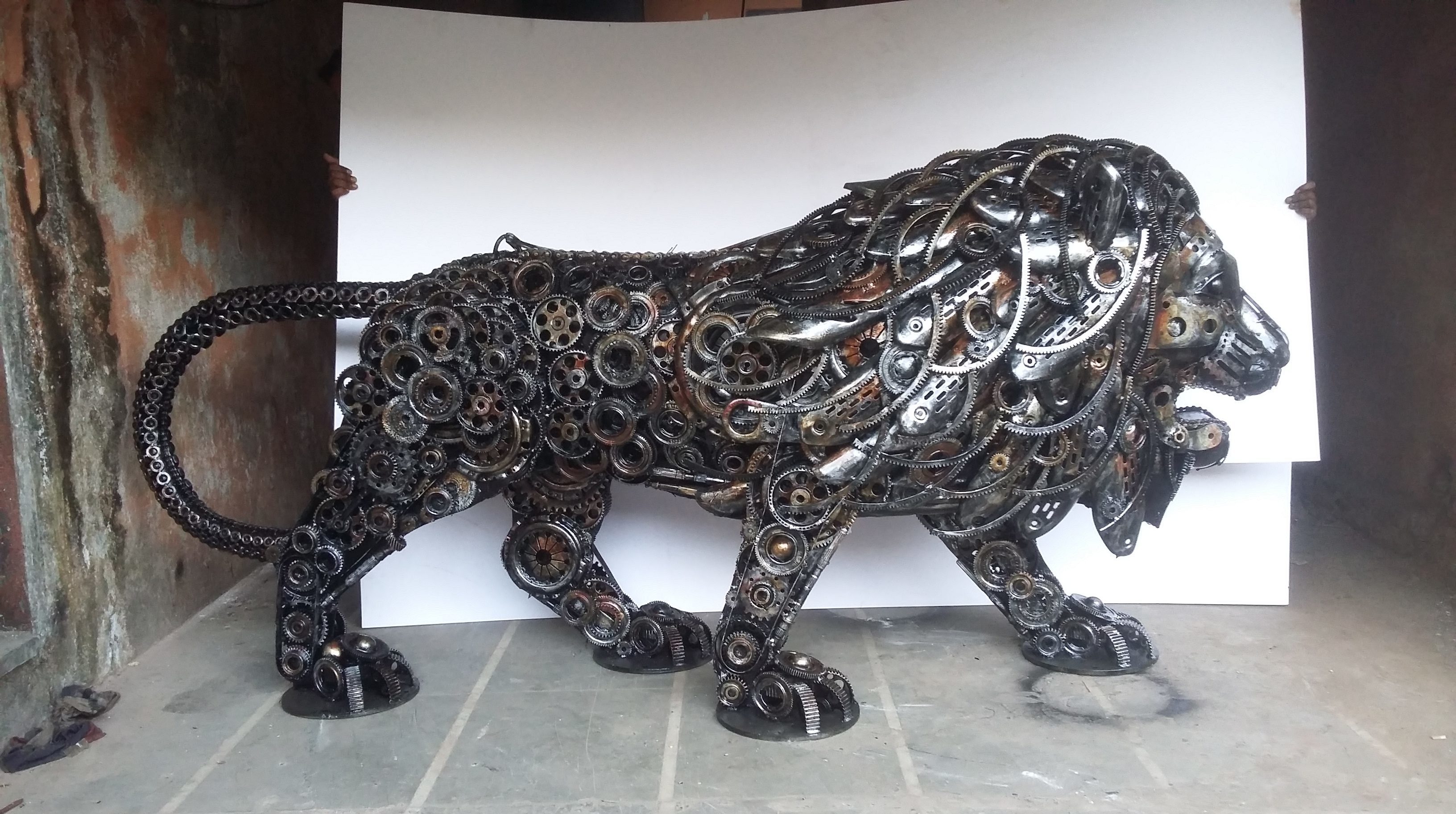 Mumbai's magical e-waste lion
India is among the top five generators of e-waste in the world generating over two million tonnes each year – however, local artist Haribaabu Naatesan has committed to turning rubbish into riches by recycling e-waste into eye-catching works of art. Starting in 1999, Hari has since created works of e-waste art which include a life-size yellow Volkswagen beetle, a flamboyance of flamingos and a steampunk-inspired clock tower.
Hari's Volkswagen Beetle is made with over 2,805 pieces of scrap including 800 spark plugs, 200 bottle caps, 60 mother boards, audio cassettes, typewriters, pens, and barbecue sticks.
Functioning as a street light as well as a reminder of the migration of local flamingos in the area, this gigantic sculpture is made from redundant automobile parts like petrol tanks of a bike, shock absorbers, head lights, and more.
Of the piece and his motivation, the artist says:
"My bank balance was below average. My friends and relatives started questioning my decision. They would say, 'Paagal hai tu! Kyun struggle kar raha hai?' (You are mad. Why are you struggling?). But I did not give up."
He became the first recipient of the Bajaj Art Gallery fellowship award which led to commissioned projects and within a year, he had set up a studio in Mumbai. Through his work to date, he has recycled several tonnes of e-waste and made over 100 sculptures.
Jewellery from e-waste
Eliza Walter founded 'Lylie's' in 2017 aged 24 after training as a goldsmith in London's Hatton Garden. After learning about the possibility of e-mining whilst at school, she pursued the idea of a circular supply chain through university, whilst completing her goldsmiths training and working for two Bond Street jewellers.
She designs and creates jewellery made with e-waste, salvaging the precious metals from discarded technology. Lylie's taps into two hugely popular trends - sustainability and customisation.
"I hope that it becomes the norm for a customer to ask who made which parts, and where. And for them, when considering a purchase, to send the chosen brand all unworn/unwanted/broken pieces, to be recycled in exchange for credit against the new piece."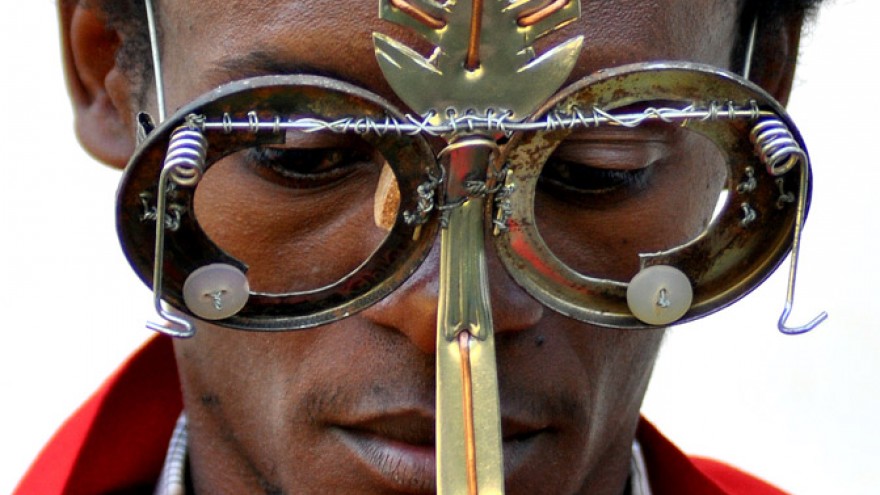 Wearable art in Kenya
Kenyan artist Cyrus Kabiru describes himself as "one of nature's soldiers". The 35-year-old collects rubbish from the streets of Nairobi and creates wearable sculptures from glasses embellished with bottle tops, beads and bits of wire, to beautiful bicycles.
"When I walk, I just collect. But nowadays, people know what I want, I get shining metals, even some wire and copper – very colourful trash," he says. "If it's plastic we get a very bright plastic. You have unique trash. Very clean."
Find out more about what it means to partner with Computer Aid and reduce the toxic impact of your e-waste on the environment, by getting in touch or visiting our website. Alternatively, why not turn your hand to art and consider turning unwanted devices into your own form of artistic expression – tagging us or sending us photos of your creations via social media or over email.